10 Tips For Easy Kitchen Renos
Thinking of remodeling your kitchen?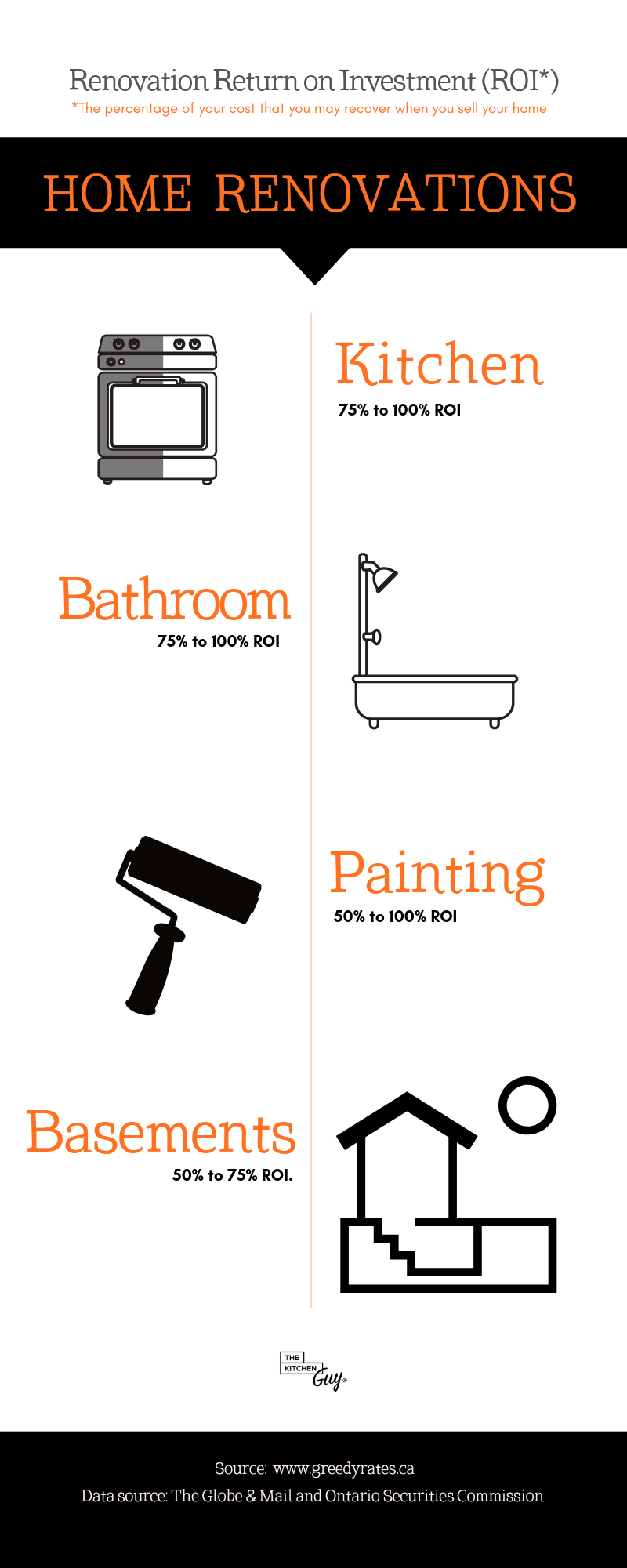 Here are a few tips to keep in mind to facilitate your process.
Home renovations can add value to your property. 
According to data from The Globe & Mail and Ontario Securities Commission,  you will recover from 75 % to 100 % of your investment from a kitchen renovation. *1
Read our 10 tips to make your kitchen renovation painless 
# 1. What is your WHY for the project? Is it a lifestyle decision to improve your quality of life and increase the value of your home or is it a quick facelift for the resale of your home?
# 2. Have you allocated a sufficient budget framework for the project? What is included in this budget? (e.g.: cabinets, countertops, renovations, backsplash, flooring, appliances, sink, faucet, lighting, electrical, plumbing)
 According to our

«

The Ultimate Kitchen Renovation Investment Guide

»

your kitchen renovation should cost no less than 5% and no more than 25% of the current market value of your home with approximately 50% of that cost going toward cabinetry alone. For more information, click here to consult the Guide.
# 3. What is your timeline for your project? Keep in mind that whatever the season, there are advantages and challenges. Are you planning to begin your project in 3 months or in 12 months?
# 4. Evaluate your needs.
supply & install only: you choose a company specialized in kitchens, design, cabinets and countertops and the renovation work is handled separately by yourself (DIY) or by a contractor

turn-key (the partner you choose will take care of the full project from A to Z)  
# 5. Do you want to keep the existing footprint or do you want a new design? 
# 6. Have you thought about your temporary kitchen during the renovation? (e.g.: will you move out of your house, will you set up in another room or in your basement)?
# 7. What do you like and what is lacking in your current space? (e.g.: remove a wall to extend the space, storage space, counter space, accessories, lighting, natural light).  Make a wishlist of your dream space. 
# 8. Anticipate the unexpected and be prepared for some surprises (e.g.: change in delivery dates for the cabinets, countertop installation delay, availability of materials, etc).
Choosing a kitchen design and renovation partner
# 9. How far along are you in your vision of  your new kitchen? Working with a company specializing in kitchen design and remodelling ensures you benefit from expert advice.  With their experience, kitchen designers will guarantee best use of space, function and esthetics. 
# 10. What are the company reviews online? Do they showcase their projects and are you attracted by the design styles?  Get recommendations and references – do your research. How is the customer service and the initial contact with the company? Trust your instincts. Is there transparent communication and trust ? 
Remember that kitchen design and renovation is a creative and collaborative process. Enjoy it. 
We hope that this article will help you in the preparation of your kitchen renovation. Feel free to reach out to us with any questions. A member of our dynamic The Kitchen Guy®  team of bilingual consultants and designers will be happy to assist you. Either you have a Kitchen renovations in Ottawa or in Sudbury, we're here! Call us anytime for a free estimate. 
*1. source : https://www.greedyrates.ca/blog/how-much-do-home-renovations-really-cost/